UFM • unified fault management
One interface, all NMS
A single unified fault management solution for complex multi-vendor network management systems, automating root cause analysis and problem resolution.
What is an NMS?
Every set of applications in a network has its own Network Management System (NMS)
NMS are vendor-specific
NMS perform 3 main functions: fault management, configuration management, performance monitoring.
The problem
Mobile networks are a patchwork of different technologies from different vendors
Technology continues to evolve: IoT and 5G are just the latest new complex layers to be added to existing infrastructure
With multiple systems, your fault management is too complex: large number of separate NMS, with separate logins, different GUIs, reports and alarms
Even within the same vendor, there are different NMS!
Your staff need to know the quirks and special features of each different NMS
In a high-pressure environment, when a network component fails there are many alarms being triggered, and dealing with each separate NMS interface slows down fault-finding…… and then once the fault is found, configuration and optimisation in each system is different too!
In-depth knowledge of each system is hard to acquire, and experienced staff with the level of expertise you need are hard to find and retain. Training new staff takes time, and often the knowledge is subtle and nuanced.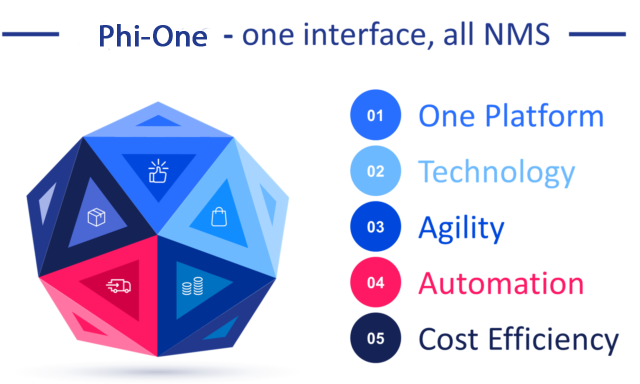 UFM
one interface, all NMS
Developed in-house, we've used our knowledge of multi-vendor networks and systems and decades of experience, combined with our AI skills, to deliver a transformative, intelligent, unified solution.
manager of managers, a sophisticated and powerful UFM (Umbrella Fault Management system).
One platform: rich, intuitive web interface, with a fully customisable single view
Certified technology: all system components are Cloud Native Computing Foundation certified with a mesh of micro-services components
Compatibility: resolves issues of handling multiple systems and vendors, to deliver a single unified interface and approach
Automation: fully-fledged library of "generic/vendor-specific" correlation and automation rules, network alarms + their recommended actions + all troubleshooting steps are pre-loaded
Reliable repeatability: automates common fault-fixes to ensure consistent resolution
Alarm grouping and pivoting: combines multiple alarms from across different systems, to trigger a specific response
Focussed: swiftly handles mundane tasks to leave your network professionals to address more complex customer-centric and strategic issues
Agile: setup can be changed on the fly, no loss of service with its static predefined load balancing rules
Expandable: rapid integration of additional new NMS, with elastic scalability
Resilient: ensures a stable service out of hours by automating network operations and monitoring for all common issues
Intelligent remote monitoring: option to configure to only escalate complex cases to network professionals
Always improving: when a new fault-fix is identified, and after robust assessment, the automation algorithms can be automatically updated
Customer retention & brand value: minimises failure recovery time and increases customer satisfaction due to quick response to network issues, and so benefits customer retention and overall brand image
Cost-efficient: optimised system architecture and a single interface = simplified operations, administration and maintenance
Faster time to revenue: by swiftly and consistently identifying and resolving faults, the time from fail to fix is reduced, and revenue opportunities are optimised
AutoPilot: the first step towards zero-touch operations
Commercially deployed: now.